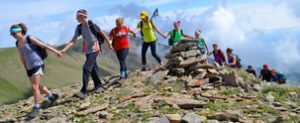 "It was early in the day for a storm to be pushing over the mountains.  We were crossing a long narrow ridge, with a climb still ahead of us and a long exposed hike behind us.  There were few options available when the storm hit.  As the rain pounded, lightning flashed, and thunder crashed around us, I thought about Martin Luther crossing that fabled field before he became a monk.  We spread out, pushed around the peak trying to stay as low as possible, and finally started downward.  As we watched the storm pass from the sanctuary of the trees a bright rainbow appeared reminding everyone of God's love for us.  We saw both the immense power and the quiet grandeur of God that day; and needless to say, learned to pray a little more fervently."  –Camper Ben after an adventure journey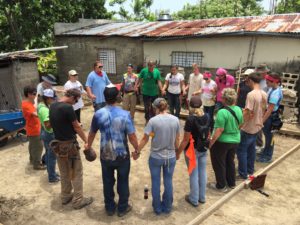 Whether it's through challenges, overcoming hardships, or time for quiet reflection and renewal, wilderness experiences have played a prominent place in the stories of God's people.  Adam and Eve left the garden to seek a new life.  Elijah found refuge from the world and heard God calling him in new ways.   John the Baptist proclaimed the coming of Christ from the wilderness.  Jesus retreated up the mountain to pray.  These people were shaped by their time in the wilderness.
Wilderness journeys are still an important aspect of faith formation.  Consider including wilderness experiences to build strong foundations of faith in new and exciting ways.  Like the Israelites, young people are guided through new lands and learn to live with less.  Reaching breath-taking peaks or navigating a canoe across remote lakes, campers learn to rely on each another and find strength in God when they feel like they can't go any farther.  Exploring God's creation, camping next to pristine lakes, and sharing in the work of living together, campers experience service and live a life that shows appreciation for all that God has given them.
---
"Let the same mind be in you that was in Christ Jesus, who, though he was in the form of God, did not regard equality with God a thing to be exploited, but emptied himself, taking the form of a slave, being born in human likeness. And being found in human form, he humbled himself and became obedient to the point of death — even death on a cross."  – Philippians 2:5-8 (NRSV)
As Christians, we are called to follow in the footsteps of Jesus whose ministry was one of service.  Surrounded and encouraged by the community of his disciples, Christ wandered from place to place, caring for the "least of these."  By serving with and for others, we are able to share the abundant gifts of God's grace that we have been given. In serving, we also receive gifts of understanding, purpose, clarity, friendship, and compassion. Our lives are changed in unimaginable ways. Volunteer service can also serve as a stepping stone to a new career– as a pastor, social worker, youth worker, teacher, legal advocate, camp director, or a staff member of a social ministry organization.  Servant Events are mutually empowering opportunities for serving and being served in the mind and manner of Christ.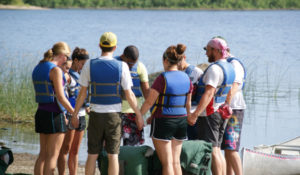 "And what does the Lord require of you but to do justice, and to love kindness, and to walk humbly with your God?" –  Micah 6:8b (NRSV)
Servant events include community service, social ministry, hunger and justice education.  These unique experiences can encourage lifelong learning, enthusiasm and commitment to service, ongoing faith development, self-confidence and a stronger sense of community among participants.  Some objectives for servant events include:
Create working partnerships of discovery, understanding and appreciation among people of diverse cultures, ages, disabilities, lifestyles and economic situations.
Stimulate spiritual, emotional and intellectual development.
Empower and transform lives and communities through service to build God's Kingdom of justice and peace.
Motivate and equip people for continuing corporate and individual service.